WE CONNECT THE FUTURE WITH FUN.
WE CONNECT THE FUTURE WITH FUN.
WE CONNECT TRAINING WITH IDEAL PROSPECTS FOR YOUR FUTURE.
Would you like to learn an exciting and fulfilling job? Then welcome to ABATEC. Here you have challenging tasks from day one instead of a boring daily routine. You can shape the future instead of managing the past. We offer you a future career that is genuinely secure.
As a commercial apprentice, you'll get to know all the departments in turn, from purchasing to accounting to reception. And as a technical apprentice all departments within our production. Whatever you have in mind, go for it! Your apprenticeships to choose from:
– Electronics technician
– Office administrator
– Microtechnician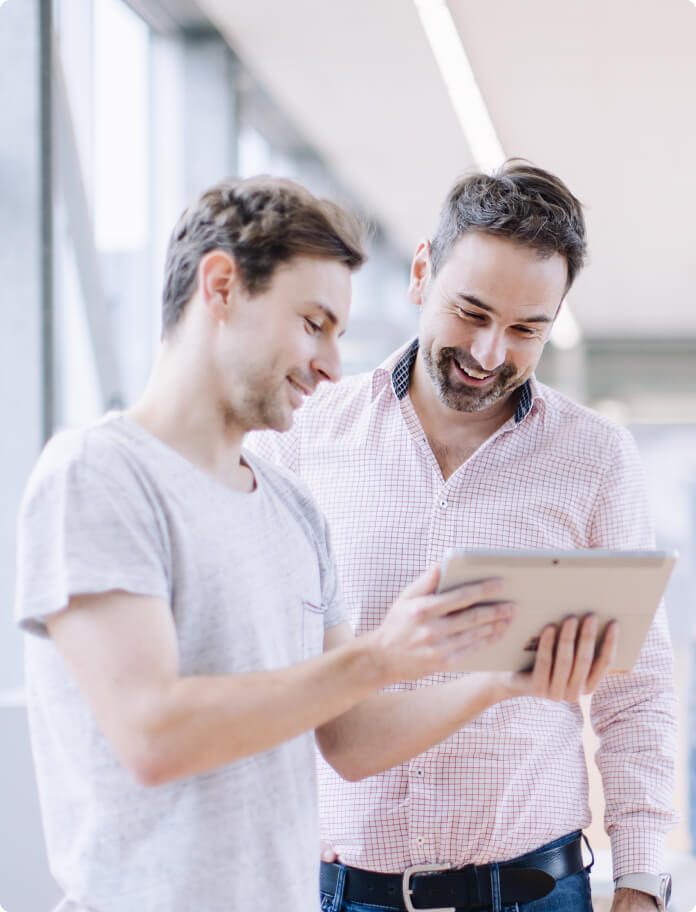 MOST IMPORTANT OF ALL, IT'S A GREAT APPRENTICESHIP
YOUR GOAL IS OUR GOAL: EMPLOYMENT IN OUR COMPANY
RESPONSIBLE TASKS RIGHT FROM THE START
WE SUPPORT TRAINING AND DEVELOPMENT DURING AND AFTER YOUR APPRENTICESHIP
A CORPORATE CULTURE THAT IS AS OPEN AS YOUR OPPORTUNITIES WITH US
A WIDE RANGE OF INTERNAL DEVELOPMENT AND PROMOTION OPPORTUNITIES
INTERESTED?
APPLY TO US THE WAY YOU WORK: TAKE THE INITIATIVE!
choose location
THIS IS HOW A FIRM CONNECTION WORKS. WITH YOU AND US.
1.APPLY
Upload your documents to the careers portal.

2. REPLY
We make a preliminary selection and reply to you within two weeks. That's a promise.
3. GET TO KNOW US
You drop by for an interview. Or come for a trial day. That way you get to know us – and we get to know you.
4. DECIDE
You decide whether we're the perfect match for you – and vice versa. After the final confirmation, we immediately send you an employment contract that we have already signed.
5. START
You start with us on the date that we agree.
faq
HOW DO I APPLY?
Please always use the careers portal and don't forget that only complete applications with all the required documents such as your CV, cover letter and certificates will be considered.
WHAT IS THE APPLICATION PROCESS LIKE AT ABATEC?
Fast, personal, transparent. We make sure to give you feedback on the next steps in the application process as quickly as possible so that we can stay in contact.
WHEN CAN I APPLY FOR AN APPRENTICESHIP?
As soon as an apprenticeship position is advertised. The sooner you apply the better.
CAN AN APPRENTICE STAY ON WITH THE COMPANY?
Not just "can", but "should". We want you hit the ground running once you've completed your apprenticeship with us. And so should you…
IS IT POSSIBLE TO HAVE A TRIAL DAY AT ABATEC?
If we decide to have a second interview with you, you're welcome to spend a day with us at the company.
WE CONNECT PARTNERSHIPS WITH SUCCESS STORIES.
Our success is connected to that of our partners. Here are some current references, but the future is yours. It only takes a phone call to begin your success story – with us by your side.